Come, take a walk with me to discover how to overcome temptation in your life…In this contemplative walk, I urge you to read each paragraph slowly.  Stop at the end of each little section to close your eyes and allow Jesus to speak to your heart.
Witness the Humilty of our Lord – There is no room in the Inn, the Virgin Mary must give birth to our Saviour in a place where the animals are being kept. Already, man has rejected the Holy One who has come into the world to save it. The prophet Isaiah spoke of Him, but when the Messiah arrives it is the humble Shepherds who are invited by the Angels to come and give praise and glory to God. "For to us a child is born, to us a son is given, and the government will be on his shoulders. And he will be called Wonderful Counselor, Mighty God, Everlasting Father, Prince of Peace." Isaiah 9:6
Witness the Controversy and the Suffering Foreshadowed – At the Presentation of our Lord in the temple the Virgin Mary and St. Joseph meet a man who has long awaited the Messiah. He prophesies to Mary that "This child is destined to cause the falling and rising of many in Israel, and to be a sign that will be spoken against, so that the thoughts of many hearts will be revealed. And a sword will pierce your own soul too." Luke 2:34-35 Mary and Joseph understand this to mean that many people will oppose Jesus and that His life will be one of great suffering.
Witness Unimaginable Tragedy and Heartache – King Herod learns from the wise men that the "King of the Jews" has been born and begins plotting to kill Jesus, so Mary and Joseph must leave their home and become refugees in a foreign land. "An angel of the Lord appeared to Joseph in a dream. "Get up," he said, "take the child and his mother and escape to Egypt. Stay there until I tell you, for Herod is going to search for the child to kill him." Matthew 2:13 King Herod was counting on the wise men to tell him of the whereabouts of Jesus, but when they fail to do so he calls for all little boys under the age of two to be killed. Imagine this genocide; imagine the pain and loss, "a voice was heard in Ramah, wailing and loud lamentation, Rachel weeping for her children; she refused to be consoled because they were no more." Matthew 2:18
Witness His Patience and Denial – Jesus lives among His people, but His people do not recognize Him, except a few chosen ones. He has so much to teach His people, but few are willing to truly listen. He goes to weddings but He does not take a wife. He goes off alone into the wilderness to pray and to commune with the Heavenly Father. He denies His humanity and lives solely to satisfy God's plan of salvation.  "I have come down from heaven not to do My own Will but to do the Will of Him who sent Me. " (John 6:38)
Witness the Human Struggle and our Lord's Perfect Obedience to the Will of God – Jesus was in anguish in the Garden of Gethsemane as He contemplated His Passion.  He did not want to die but He showed us how much He loved us by dying for us. "He fell with his face to the ground and prayed, "My Father, if it is possible, may this cup be taken from me. Yet not as I will, but as you will." Matthew 26:39
Witness the Rejection and the Unthinkable Violence – "He was despised and rejected by men, a man of sorrows, and familiar with suffering. Like one from whom men hide their faces he was despised, and we esteemed him not. Surely he took up our infirmities and carried our sorrows." (Isaiah 53:3-4) "He was harshly treated, yet He submitted and did not open His mouth. He was silent like a lamb led to the slaughter …" (Isaiah 53:7)
Witness His Disfigurement – During His Passion "his appearance was so marred beyond human semblance, and his form beyond that of the sons of men—so shall he startle many nations; kings shall shut their mouths because of him." (Isaiah 52: 14-15)
Witness How He Comforts and Consoles – Jesus comforts and consoles His disciples giving them hope, "You are now in anguish, but I will see you again. Then your hearts will rejoice, and no one shall deprive you of your joy." (John 16:22)
Witness His Compassion – "We do not have a high priest who is unable to sympathize with our weaknesses, but One who has been tested in every way as we are, but without sinning." (Hebrews 4:15) Jesus knows that we are subject to temptation and He continues to calls to us "Come to Me, all you who are weary and overburdened, and I will give you rest." (Matthew 11:28)
Remember His Warning — "Unless you repent you will all likewise perish." Luke 13:5
Witness the Indignity as Jesus is mocked and disrobed — "All who see me mock me." Psalm 22:7 "And they stripped him and put a scarlet robe upon him, and plating a crown of thorns they put it on his head, and put a reed in his right hand. And kneeling before him they mocked him, saying, "Hail, King of the Jews! And they spat upon him, and took the reed and struck him on the head. And when they had mocked him, they stripped him of the robe, and put his own clothes on him and led him away to crucify him." Matthew 27:27-31
Witness His Love, a Love that Defies Description – The Almighty lies down on His Cross to be crucified for you and me and all souls. Imagine His pain! "My strength is trickling away like water, and all My bones are dislocated. My heart has turned to wax and melts within Me. My mouth is as dry as clayware, and my tongue sticks to My jaws; You have laid Me down in the dust of death." (Psalm 22:15) "They have pierced My hands and My feet; I can count all My bones." (Psalm 22:17) As He is crucified, Jesus prays: "Father forgive them; they do not know what they are doing." (Luke 23:34)
Remember Him every day at 3 pm, the time He died for you —"Christ Jesus, who, though he was in the form of God, did not count equality with God a thing to be grasped, but emptied himself, taking the form of a servant, born in the likeness of men. And being found in human form he humbled himself and became obedient unto death, even death on a cross. Therefore God has highly exalted him and bestowed on him the name which is above every name, that at the name of Jesus every knee should bow, in heaven and on earth and under the earth, and every tongue confess that Jesus Christ is Lord, to the glory of God the Father." (Philippians 2: 5-11)
Know that He loves you more than you can imagine —"This is how God showed His love: He sent His only Son into the world…as an atoning sacrifice for our sins." (1 Jn 4:9) "Beloved if God so loved us, we also ought to love one another." (John 4:11) May our Lord's peace be upon you! "Great peace have those who love your law; nothing can make them stumble." (Psalm 119:165)
The Scriptures says "They will look on the one they have pierced." John 19:37 and when we truly look at Our Crucified Lord we will fall in love with Him and then temptation will vanish and His Love and His Holy Spirit fills our hearts.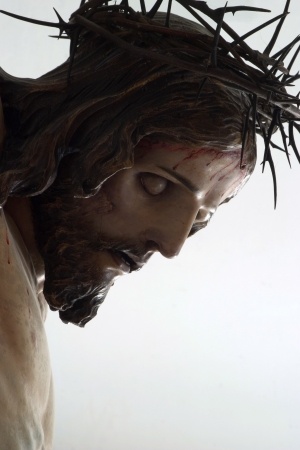 You are my Heart's Desire Jesus!  You are everything!  My heart longs for YOU!
Social Share