It is possible to say the words to the Lord's Prayer, "Our Father" like we are reciting a poem, without really reflecting on the immensity of what we are praying, so let's take a little time to meditate on the message.
The Lord's Prayer begins with:
"OUR FATHER WHO ART IN HEAVEN"
God is "Our Father" and what a great privilege it is to be a "child of God". This privilege is bestowed upon us at Baptism when we receive the Holy Spirit of God.
"For you are all sons of God through faith in Christ Jesus. For all of you who were baptized into Christ have clothed yourselves with Christ. There is neither Jew nor Greek, there is neither slave nor free man, there is neither male nor female; for you are all one in Christ Jesus." Galatians 3: 26-28
As children of God we are called to live in a relationship of intimacy with God, The Father, God, The Son (Jesus Christ) and God, The Holy Spirit. There is only One God, the Holy Trinity (Father, Son and Holy Spirit), who offers us the opportunity to live united with Him on earth as we travel to our final destination, Heaven.  God promises us, His children, an eternal inheritance, a home in Paradise, where we can experience His love and rejoice in an experience of joy and peace that is beyond our imagination.
"No eye has seen, no ear has heard, and no mind has imagined what God has prepared for those who love him." 1 Corinthians 2:9
The Lord's Prayer continues with:
"HALLOWED BE THY NAME"
Hallowed be thy name, means God's name is holy and blessed.   We are called to give God the gift of reverence, a gift that comes from the Holy Spirit dwelling within us.
"Even before he made the world, God loved us and chose us in Christ to be holy and without fault in his eyes." Ephesians 1:4
For it is written: "Be holy, because I am holy." 1 Peter 1:16
God is calling His children to draw near to Him and to learn from Him and to obey Him and in communion with God as we listen to Him we become more and more pleasing to Him, giving honour and glory to His Holy Name.
The Lord's Prayer continues with:
"THY KINGDOM COME, THY WILL BE DONE, ON EARTH AS IT IS IN HEAVEN."
Jesus, God's Only Begotten Son, True God, True Man is Our Lord and King. As we strive to understand and embrace God's holy will, we build God's Kingdom on earth, a Kingdom where we have compassion for one another, striving to help all in need, showing mercy and kindness while preserving peace and upholding justice.
The Lord's Prayer continues with:
"GIVE US THIS DAY OUR DAILY BREAD"
God desires that His children have all that they need to prosper. Our daily bread consists of more than the food on our tables. It consists of all the physical, emotional, psychological and spiritual needs we have. God expects that we take responsibility in ensuring that all our neighbours are provided for.
"And we know that in all things God works for the good of those who love him, who have been called according to his purpose." Romans 8:28
"And my God will supply every need of yours according to his riches in glory in Christ Jesus." Philippians 4:19
"Whoever is kind to the poor lends to the LORD, and he will reward them for what they have done." Proverbs 19:17

The Lord's Prayer continues with:
"AND FORGIVE US OUR TRESPASSES AS WE FORGIVE THOSE WHO TRESPASS AGAINST US"
Forgiveness is the greatest gift of God's mercy. The price of sin was so high that God chose to become Man in the person of Jesus Christ to atone for it (i.e., pay the price of sin) and reconcile mankind back to Him. Only through a divine sacrifice could God's divine justice be satisfied.  Jesus, God's Divine Mercy paid the price of God's Divine Justice.
"For God so loved the world that he gave his one and only Son, that whoever believes in him shall not perish but have eternal life. For God did not send his Son into the world to condemn the world, but to save the world through him." John 3:16-17
Jesus teaches us that:
"Blessed are the merciful, for they will be shown mercy." Matthew 5:7
"But if you do not forgive others their sins, your Father will not forgive your sins." Matthew 6:15
For the past decade I have taken a daily spiritual journey to Calvary, the place where Jesus was crucified for our salvation. Meditating on Jesus being tortured and crucified for our redemption makes me want to give Him everything! It makes me want to forgive all who have hurt me for in this way I can please God and I can help those who have hurt me as I pray for them.
Let us ask Jesus for the gift of forgiveness for the Son of God so desires to reconcile us to God the Father.
"My dear children, I write this to you so that you will not sin. But if anybody does sin, we have an advocate with the Father–Jesus Christ, the Righteous One. He is the atoning sacrifice for our sins, and not only for ours but also for the sins of the whole world." 1 John 2:1-2
The Lord's Prayer concludes with:
"AND LEAD US NOT INTO TEMPTATION BUT DELIVER US FROM EVIL. AMEN"
OR
"AND LEAD US NOT INTO TEMPTATION BUT DELIVER US FROM EVIL: FOR THINE IS THE KINGDOM AND THE POWER, AND THE GLORY, FOR EVER. AMEN"
In some translations of the Bible the words "For thine is the kingdom, and the power, and the glory, for ever. Amen" are omitted and so for some Christians the Lord's prayer concludes with 'deliver us from evil' Amen.
Let's consider the meaning of
"Lead us not into temptation, but deliver us from evil".
It is Satan that seduces souls and leads them INTO TEMPTATION.
God, however, does the opposite. God leads us NOT INTO TEMPTATION, delivering us from the power of the evil one.
Consider how this plays out in real life. If a vulnerable alcoholic prays "lead us not temptation…" God will guide him/her on a path where alcohol will not be present. This may involve emptying the liquor cabinet in the home to remove a source of temptation. It may involve not going to bars or attending parties where alcohol will be served, if the alcoholic is unable to resist the temptation.
God leads us AWAY from temptation but Satan leads people INTO temptation.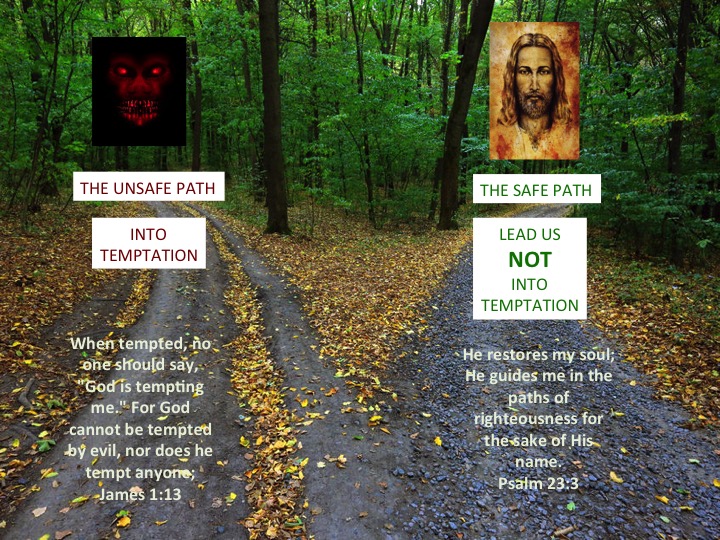 We must trust that God is always leading us onto paths that will allow us to prosper and give Him glory.
"You make known to me the path of life; you will fill me with joy in your presence, with eternal pleasures at your right hand." Psalm 16:11
How privileged we are to have the Lord's Prayer to guide us to thank God for being Our Father, to thank Him for His love and mercy, for providing for us, for teaching us to live in a holy communion with Him as we strive to honour Him and build His Kingdom on earth, a Kingdom of love, mercy, peace and justice.
Please give glory to Our Father in Heaven by remembering every day the sacrifice of His divine Son, Jesus Christ. Please join Christians all over the world that are stopping at 3pm, the time Jesus died for us, to remember His Passion , to thank Him for dying to save us and to pray for Jesus to send His Holy Spirit to us to bring souls to repentance and to bring healing and peace to our suffering world.
Believe in the power of our united prayer for God hears the prayers of His children!
Social Share