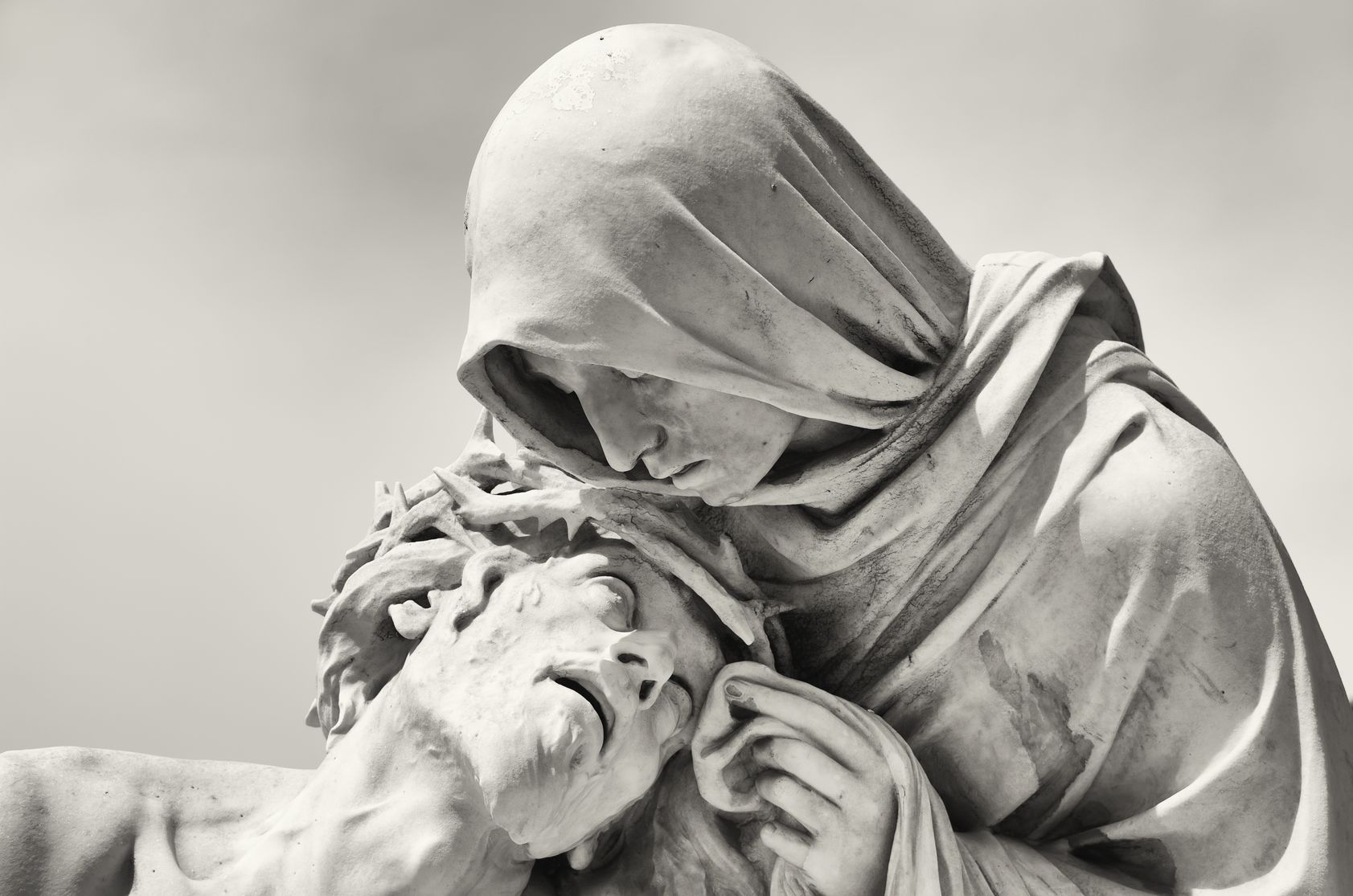 The decisions we make will shape our life experience, they will define who we are and will even affect our eternal destiny.
There is a woman, chosen by God, who's YES to God's holy will changed the world.
This woman is spoken of in the following Scripture.   In this passage God is speaking to Satan. Adam and Eve have sinned and God is telling Satan that there will be a woman that he will hate. This woman will oppose Satan and give birth to a child that will crush him. This woman is the Virgin Mary and the woman's child is Jesus Christ.
"And I will put enmity between you and the woman, and between your offspring and hers; he will crush your head, and you will strike his heel." Genesis 3:15
Here is a contemporary translation of the same Scripture:
"You and this woman will hate each other; your descendants and hers will always be enemies. One of hers will strike you on the head, and you will strike him on the heel." Genesis 3:15
This prophecy begins to be fulfilled as one holy precious lady, the Virgin Mary, says YES to God.
The Virgin Mary is God's chosen vessel, His Holy Tabernacle. In her God would conceive His Son Jesus, but not before she consents to His plan.
An Angel by the name of Gabriel announces to Mary God's plan:
"Do not be afraid, Mary; you have found favor with God. You will conceive and give birth to a son, and you are to call him Jesus. He will be great and will be called the Son of the Most High. The Lord God will give him the throne of his father David, and he will reign over Jacob's descendants forever; his kingdom will never end." Luke 1:   30-33
Mary is perplexed and asks: "How will this be," … "since I am a virgin?" Luke 1:34
The angel answered, "The Holy Spirit will come on you, and the power of the Most High will overshadow you. So the holy one to be born will be called the Son of God." Luke 1:35
"And Mary said, Behold the handmaid of the Lord; be it unto me according to thy word. And the angel departed from her." Luke 1:38
Mary's consent to God's plan sets in motion a holy design. God would incarnate in the person of Jesus Christ and become for all who will believe in Him, a Saviour.
Mary's YES marks the beginning of a divine plan to reconcile God and Mankind and bring about a human transformation through the power of God's grace and love.
"I will give you a new heart and put a new spirit in you; I will remove from you your heart of stone and give you a heart of flesh. And I will put my Spirit in you and move you to follow my decrees and be careful to keep my laws." Ezekiel 36: 26-27
Mary gave her heart and her life to God and her unconditional YES gives each of us an opportunity to receive the 'new heart' filled with the Divine Holy Spirit that the Prophet Ezekiel spoke about.
In Mary's prayer the Magnificat she declares: "for he has been mindful of the humble state of his servant. From now on all generations will call me blessed," Luke 1:48
God blessed a humble virgin who was willing to say YES to God's holy will.  He blessed her with the highest privilege and honour, the privilege of becoming the Mother of God.
Her blessing did not preclude the greatest suffering. Mary would have to see Her Son Jesus tortured and crucified like a common criminal, even though He was the Holy One, the long awaited Messiah.
God conceived Jesus in the womb of the Virgin Mary through the power of the Holy Spirit and God will conceive Jesus in our hearts through the same Holy Spirit so that we will be capable of the love He so desires.
As we begin our journey to Easter let us repent of our sins and give God our 'YES'!
Let us say 'YES' to living in a relationship of complete trust and hope in His saving grace and infinite love and compassion.
Mary was faithful to God. In Genesis 3:15 we have Scriptural proof of that fidelity. If Mary had not been obedient to God, God would not have announced to Satan that there would be 'enmity' or 'opposition' between them.
This opposition is the battle between good and evil, between God and Satan.
The Virgin Mary is a beautiful, inspirational role model for all Christians.
Her consent to God's Holy Will occurs over and over again in her life as she chooses good over evil, charity over avarice, hope over despair, truth over lies and love and mercy over hatred and vengeance.
The battle of good over evil is fought with knowledge and understanding of God's holy way and His holy will. Like Mary we must seek to treasure God's Word and live it.
The Virgin Mary's instructions to us are to listen to Her Son: "Do whatever he tells you." John 2:5
Let us begin our journey this Lent be imitating the Virgin Mary and saying 'YES' to God's holy will for us:
"Behold, I am the servant of the Lord; let it be to me according to your word." Luke 1:38
Then let us reflect on God's Holy Word as spoken in the Bible and ask ourselves are we living the life Jesus wants us to live?
If we trust Jesus, He will send His Holy Spirit upon us so that He can be conceived in our hearts. Jesus does not want our faith to be a series of casual encounters with Him. Jesus wants our faith to give birth to an intimate relationship of total trust in His love and complete unity with Him.
"I am the vine; you are the branches. If you remain in me and I in you, you will bear much fruit; apart from me you can do nothing." Words of Jesus, John 15:5
When I worked as a volunteer distress center counselor I recall saying to very distressed and sometimes suicidal people: "You are not alone! Everyone in this distress center is a volunteer. We are here for you. We are here for you 24 hours a day, 7 days a week. We are here because we care about you."
Jesus is always ready to embrace us.
You are not alone! Jesus loves each and every human being on earth, more than we can imagine and Jesus is always, always there for us. He's there to help us and turn around our lives. He's there to heal us, strengthen us, teach us, guide us, forgive us, bless us…all we have to do is say 'YES' I want You in my life Jesus!
Jesus calls us to say 'YES' to His Holy Will and this requires a life of 'spiritual discernment'. Spiritual discernment is more than determining a moral right from a moral wrong. True spiritual discernment is recognizing that we are persistently in the presence of God and that His Holy Spirit is available to all who will bow down to Him and acknowledge His greatness, His deity, His merciful love that knows no end.
Spiritual discernment requires that we understand the teachings of Jesus Christ and that we strive to live them by always pondering 'what would Jesus want me to do in this circumstance'.
I know that as I write this God is using me and I feel privileged and I feel a great sense of responsibility to share with you my witness so that you can profit and grow in the love of Jesus, Our Lord and Saviour.
I have said 'Yes' to Jesus. I have said, 'Use me Holy Lord for Your divine purposes. Help me to understand Your Holy Will and help me to make choices that will honour You and give You glory. Stay with me always for I know that it is You living within me that will guide me and help me to discern how to do Your holy will."
I have spent many years, well over a decade now, studying God's Holy Word but not because I wanted to become a theologian but because I wanted to know Jesus. I wanted to know what Jesus expected of me and I wanted to make Him smile.
Jesus helped me to confess my sins and become a woman of prayer. I believe with all my heart that God answers the prayers of His people.
I pray for the strength and wisdom to know and do His holy will. I pray for the salvation of each and every soul on earth because I know that prayer is not too big for Jesus.
Every day I remember the Passion of Christ as I walk in my memory to the place where Jesus was crucified.
I stand with the Virgin Mary at the foot of the Cross of Jesus, loving Him and longing for His love and for His infinite sacrifice to be commemorated with lives devoted to honouring Him.
This Lent say 'YES' to Jesus and be not afraid! Jesus loves you!
His divine plan to transform each and every one of us begins when we give Jesus our unconditional 'YES'.
Say 'Yes' to the infinite love of Jesus and begin an adventure that will change your heart and your life.
The Virgin Mary's 'Yes' changed the world by giving us Our Lord and Saviour Jesus Christ, and our 'Yes' to Jesus will change our hearts, and our lives in ways we cannot even imagine!
Please learn more about A Peaceful Revolution in the Name of Jesus Christ, a global Christian peace movement that is uniting disciples of Jesus in prayer and remembrance of the Passion of Christ, every day, at the Time Jesus died for us, 3pm.
Social Share