With people all over the world I have been grieving the violent killing of innocent people in Christchurch New Zealand. I am praying for all those who have died, have been wounded and have lost friends and family. I am also praying for the gunman and all those involved in this horrific crime. I pray that they will confess and grieve the horror they have committed and come to God for forgiveness.
If only we could see with God's eyes!
There would be no discrimination between people!
"The LORD does not look at the things people look at. People look at the outward appearance, but the LORD looks at the heart." 1 Samuel 16:7
"God is love. Whoever lives in love lives in God, and God in them."1 John 4:16
Love manifests itself in kindness, gentleness and charity. God's Spirit of Love, the Holy Spirit, motivates acts of love but the diabolical spirit of Satan motivates acts of violence and hatred.
The media is full of discussion right now about 'extremism' in the wake of the Christchurch mass murders.
There are people in our world who think the world would be 'better' if it could be cleansed of certain groups of people.
It was precisely this type of thinking that motivated the holocaust.
This type of thinking is born out of a DECEPTION!
THIS DECEPTION IS THE WORK OF SATAN!
Satan wants killing, hatred, violence and that's why he is working to breed ideologies that motivate the end result he is always after namely, SIN AND DEATH!
If I put a precious pearl in a package you don't like, but you know there is a pearl inside, will you throw out the pearl because you don't like the packaging?
We cannot make the world 'better' by eliminating any group of people!
There are good people of various races and religions and there are evil people of various races and religions.
A complex world requires a sophisticated lens to understand it and optimize it.
Let's imagine a better world together. Here's a brief thesis why I believe it is URGENT TO RETHINK EDUCATION FOR OUR YOUTH.
First here's some data that requires careful consideration.
Our world is home to 1.8 billion young people between the ages of 10 and 24, and 90 per cent of them live in developing countries.
Source: https://www.theguardian.com/global-development/2017/feb/20/failing-75-per-cent-of-world-youth-unique-opportunity-global-youth-index
"There are more young people in the world than ever before, creating unprecedented potential for economic and social progress.  Too many of these young people see their potential hindered by extreme poverty, discrimination or lack of information. But with proper investment in their education and opportunities, these young people's ideas, ideals and innovations could transform the future." http://www.un.org/youthenvoy/2015/04/10-things-didnt-know-worlds-population/
"Unless the challenges young people face are treated as urgent, it is more than likely that many among their nearly 2 billion-strong number will end up as a lost generation." Abhik Sen and Rafiullah Kakar co-editors of the 2016 Global Youth Development Index and report published by the Commonwealth Secretariat
If we don't invest in the developing world, we will fail to invest in our youth and if we fail to invest in the leaders of the next generation, what will the world look like?
If we fail, economic injustice will likely continue to breed social unrest, violence, war and illegal immigration as young people strive to migrate to more prosperous nations.
Economic prosperity always begins with investments in education. Without education it will be impossible for our youth to create sustainable sources of wealth. The quality of education in our world varies greatly from place to place and it also varies within places. Even within developed countries student performance varies greatly and can be attributed to factors such as teacher quality/professional development, variances in the quality of the curriculum, unequal access to quality educational tools and collaboration opportunities for students etc.
Today education is still in most countries largely a matter of regional jurisdiction but I will argue in the following that we need to start thinking globally about education.
We are no longer living in the industrial age. We live in a digital information age powered by global networks and computers and mobile devices that access content and information from anywhere, anytime.
The UN reports that the world's most vulnerable countries are on track to achieve universal Internet access by 2020. This means the digital divide is almost over! Source: https://www.un.org/sustainabledevelopment/blog/2018/01/worlds-vulnerable-countries-track-achieve-universal-internet-access-2020-un-report/
Now it's time to think about what this means to the future of our world.
Consider the opportunity for a GLOBAL COMMITMENT TO BEST-IN-CLASS EDUCATION FOR EVERY CHILD POWERED BY A DIGITAL DELIVERY MODEL!
Consider the possibility for the creation of a GLOBAL EDUCATION CURRICULUM that will not only teach reading, writing and arithmetic (and all the scientific, technological and analytical skills needed) but also human rights, peace and dignity for all persons irrespective of race, gender or religion!
Reflect on the possibility of A GLOBAL PEACE CURRICULUM accessible to all youth presented in engaging formats including opportunities for collaboration with students all over the world including exciting games and fantastic prizes (e.g., scholarships)!
Here is a high level diagram of this digital global education delivery model.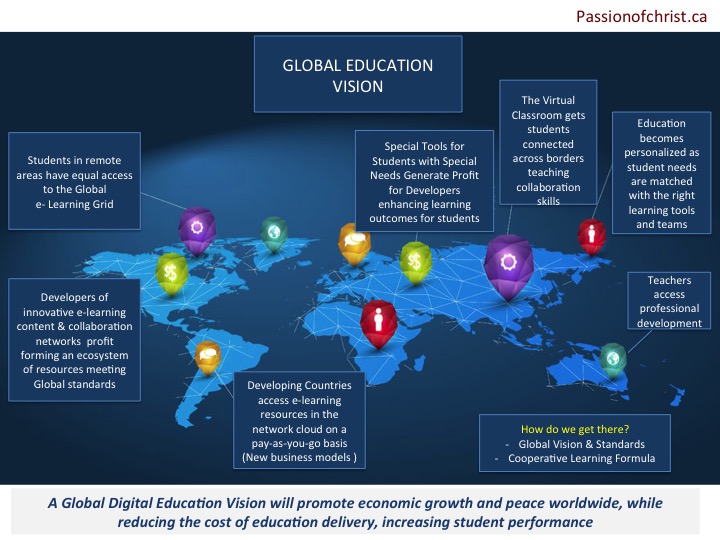 Let us pray!
Holy Lord inspire us to think about our global challenges with wisdom and innovation. Show us a future of promise where our young people can grow and learn to be smart and kind at the same time, where the human rights of all people can be respected!
Friends of Our Lord Jesus Christ please join me and Christians all over the world as we stop and pray and remember the Passion of Christ every day at the Time Our Lord Jesus died for us, 3pm. Your prayers are urgently needed! Let us call upon Jesus to send us His Holy Spirit so we can build a better world together, a world where the power of evil is silenced by the infinite power of God's Love!
Social Share