"And now these three remain: faith, hope and love. But the greatest of these is love." 1 Corinthians 13:13
Faith, Hope and Love are intimately interconnected.
If I were asked to draw a picture that encompasses faith, hope and love, I would paint a beautiful tree with deep, long roots, strong wide branches and abundant blossoms that bear fruit.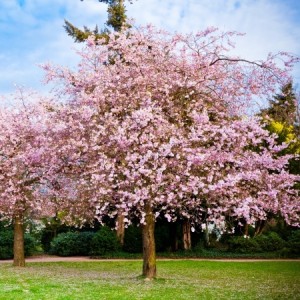 Faith
The roots of the tree are like our faith in God that embrace Him with total confidence.
Faith is our relationship with God that roots us in Jesus Christ filling us with His Holy Spirit and uniting us with God Our Father.  We are in Him and He is in us. We are one.
"I pray that out of his glorious riches he may strengthen you with power through his Spirit in your inner being, so that Christ may dwell in your hearts through faith. And I pray that you, being rooted and established in love, may have power, together with all the Lord's holy people, to grasp how wide and long and high and deep is the love of Christ, and to know this love that surpasses knowledge–that you may be filled to the measure of all the fullness of God."  Ephesians 3: 16-19

Like the strong roots of the tree that renders that tree strong and healthy, faith gives us the strength to persevere in pleasing God and giving Him glory.
"And without faith it is impossible to please God, because anyone who comes to him must believe that he exists and that he rewards those who earnestly seek him." Hebrews 11:6

"Now faith is the assurance of what we hope for and the certainty of what we do not see."  Hebrews 11:1

"Everything is possible for one who believes." Mark 9:23
Let us give thanks to Jesus for our faith in Him, for faith is a gift that He has bestowed upon us for His glory and for our salvation and sanctification.
Hope
If faith in God can be represented as the roots of a strong tree united to Our Lord, fully surrendered to His love then the branches of the tree are like the hope we have in God; they reach out like the arms of God to guide, embrace, shelter and protect.
"May the God of hope fill you with all joy and peace as you trust in him, so that you may overflow with hope by the power of the Holy Spirit."  Romans 15:13
With faith and hope we will not become discouraged.  We will persevere in surrendering our lives to Jesus for His glory.
Love
And on the branches of the tree depicting faith, hope and love, I would paint beautiful leaves, flowers and fruit that are reflections of the love of God. His love grows in us because we have faith in Him. That love evolves from a tiny seed, and from that seed, flowers eventually bloom and gradually turn into fruit.
The wind and storms in our lives come but the tree remains firm because its roots are deep and strong united to the divine source of perpetual nourishment, Jesus Christ.  Our faith must be like the strong roots of the tree planting us in the rich soil of God's love and grace.
The branches of the tree grow and expand over time reflecting a hopeful and persistent resolution to succeed in giving God glory and bearing fruit that honours Him. The tree and its branches resist the negative forces that strike at it. The tree suffers during the times of harsh weather but it continues to grow and thrive because it is nourished by God who sends the sun and the rain and gives us the graces we need through His Holy Sacraments.
The tree lives, grows and matures and the seasons come and go, and in God's time, the tree produces its good fruit, fruit that will nourish all the people it serves.
Cut down the roots of the tree and what do we have?
Turn away from faith and where do we wind up?
Cut down the branches and is their any hope of a harvest of fruit?
God nurtures His people and protects us. He feeds us and allows us to grow and bear the fruit we are destined to give to the world.
I imagine that one day God, the Creator said to His tree, His creation,
"You will assist me in my plan of salvation. Evil will kill you but you will bear more fruit in dying than you would in living." (my emphasis – not Scripture)
And so the tree was cut down and was crafted into a Cross, the Cross that Jesus Christ would embrace and carry to the place of His crucifixion.  The tree and the Lord became one, both dying in God's plan of redemption, and the tree crafted into a Cross would become the sign of our salvation, reminding us always of the infinite love of Our Lord and Saviour Jesus Christ.
One day we will all face death, but that won't be the end.  With faith in Jesus Christ we can be sure that we will live again in the perpetual light of Our Creator and Our Saviour.   Our roots of faith will be planted in eternity, where we will be alive in unfathomable peace and joy with Jesus Christ, God's Only Son, with God Our Father and with the Holy Spirit, with the Virgin Mary, the Mother of God, with all the Angels and Saints.
Holy Lord, I believe in You, I adore You, I hope in You and I love You so much. Please help those that do not believe in You, do not adore You, do not hope in You and do not love You.
With endless faith believe in the power of prayer!
Please join Christians all over the world that come together every day at the Time Jesus died for us, 3pm, to remember the greatness of His love as we remember His Passion, Death and Resurrection and pray for all souls to be saved by the power of God's love.  Pray that Jesus sends His Holy Spirit upon our world to silence the power of evil and bring new life to a world that so needs God's inspiration and salvation.  God wants change through peaceful revolution, through reconciliation, through forgiveness, love and new beginnings.
"For God so loved the world that he gave his one and only Son, that whoever believes in him shall not perish but have eternal life.  For God did not send his Son into the world to condemn the world, but to save the world through him."  John 3: 16-17

"There is no greater love than to lay down one's life for one's friends." John 15:13

With faith, hope and love, embrace Jesus Christ who will never abandon you or forsake you.  God's love endures forever!
Social Share