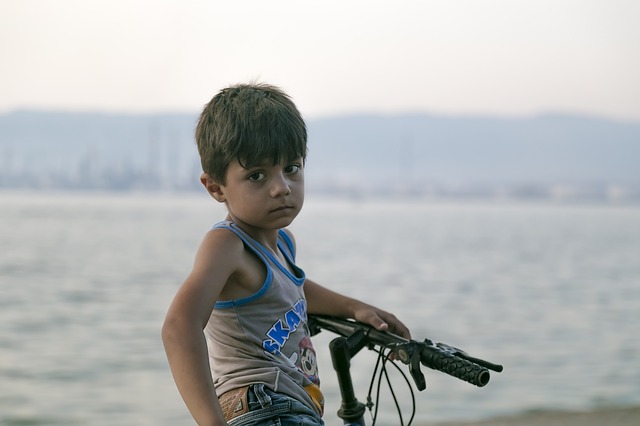 Look into this little Syrian boy's eyes. Will you choose to love him by praying for him? Will you open your heart to all the children and people in Syria who are suffering so much?
For those of us living in countries where there is no war, it is difficult to imagine the profound suffering the people of Syria have endured and continue to endure.   It has been reported that "of Syria's estimated 10 million children, 8.6 million are in dire need of assistance, up from about a half-million after the first year of war. Nearly 6 million children are displaced or living as refugees, and about 2.5 million are out of school." (Source: American Security Today) According to a 2017 World Bank report about a third of Syria's housing and half of its educational and medical facilities have been destroyed.
With no sign of an end to this long civil war, I invite you to remember the promise of God which is this:
"If my people, who are called by my name, will humble themselves and pray and seek my face and turn from their wicked ways, then I will hear from heaven, and I will forgive their sin and will heal their land." 2 Chronicles 7:14
It is wicked to kill innocent civilians and the day will come when God will avenge these crimes against humanity. Of this you can be absolutely sure!
"For we know him who said, "It is mine to avenge; I will repay," and again, "The Lord will judge his people. It is a dreadful thing to fall into the hands of the living God." Hebrews 10:30-31
"It is mine to avenge; I will repay. In due time their foot will slip; their day of disaster is near and their doom rushes upon them." Deuteronomy 32:35
If we are truly people of God we cannot ignore the pain of our global neighbours, even if our neighbours live in far away places.
Remember the teachings of Jesus "Love your enemies and pray for those that persecute you." Matthew 5:44
There are so many divided factions in Syria. All are fighting for power and control and the end of this struggle is nowhere in sight…but do you know how all of this can change in a moment?
It's not through military intervention alone…it's through spiritual intervention where we call upon the power of God!
It's TIME FOR PEOPLE TO FEAR GOD!
It is the Holy Spirit of God that can bring about a change of heart and a change of mind. It is the Holy Spirit that causes people to fear God, to repent and to start caring about God's Will.
THIS IS WHAT WE NEED TO PRAY FOR:
We need to pray for Our Lord Jesus to send forth His Holy Spirit to bring about an end to this conflict! We cannot ignore the pain of the Syrian people and we must believe that God will answer us!
Do you remember when Jesus said to His apostles,
"Do not leave Jerusalem, but wait for the gift my Father promised, which you have heard me speak about. For John baptized with water, but in a few days you will be baptized with the Holy Spirit." Acts 1:4-5
The 'transfiguration of the heart' is caused by the Holy Spirit being poured into the heart.
In fact the 'transfiguration of the heart' is a NEW HEART.
It is the new heart that God spoke about when He said:
"I will give you a new heart and put a new spirit in you; I will remove from you your heart of stone and give you a heart of flesh. And I will put my Spirit in you and move you to follow my decrees and be careful to keep my laws." Ezekiel 36: 26-27
"Don't you know that you yourselves are God's temple and that God's Spirit dwells in your midst? If anyone destroys God's temple, God will destroy that person; for God's temple is sacred, and you together are that temple." 1 Corinthians 3:16-17
People of God –
We are at war with evil! We are in a world where the worst form of slavery is sin.
How do we enable the 'transfiguration of the hearts' of the most evil people in our world?
BY PRAYING FOR THE GIFT OF THE HOLY SPIRIT!
A peaceful revolution produces sustainable change without violence because it changes the heart and the committed direction of our lives.
A peaceful revolution enables us to see Jesus, Our Lord and Saviour, as our divine guide to eternal happiness. It enables us to acknowledge that without Jesus we cannot accomplish anything. But with Him, with Our Lord and Saviour, Jesus Christ, all things are possible.
Jesus CAN CHANGE THE HEARTS OF STONE, THE HEARTS OF EVIL AND BRING THEM TO REPENTANCE.
WE MUST DECIDE DO WE TRULY BELIEVE IN THE OMNIPOTENCE OF GOD TO TRANSFIGURE THE HEARTS OF HIS PEOPLE?
The love of Jesus is a sacrificial love where He gives EVERYTHING so that we can fulfill our potential.
If you want to follow Jesus, The Peaceful Revolutionary, then you must believe that Jesus can silence the forces of evil that are committing the worst possible atrocities on earth.
Will you commit to praying for all people, especially the poor suffering people of Syria?
Will you believe in the power of prayer even if you don't see the results immediately?
The day will come when we will meet Jesus face-to-face and on that day of judgment we will understand how we helped cooperate with God's plan of salvation. We will meet the souls we have helped. We will rejoice in the fruit of our life dedicated to God's Holy Will which is love and mercy, peace, justice and reconciliation.
Jesus chose to be poor. He could have chosen to be rich. His power was displayed quietly and in secret.  He had a special love for the vulnerable, the little children, the poor and the weak. His views about how to change the world were rooted in the power His sacrifice to heal and restore our hearts.   Jesus wants our faith and trust in Him. Jesus desires an intimate relationship with each of us that will enable us to draw strength, wisdom and courage from Him.
Jesus said, "I am the vine; you are the branches. If you remain in me and I in you, you will bear much fruit; apart from me you can do nothing." John 15:5
Please join A Peaceful Revolution in the Name of Jesus Christ, a peace movement focused on calling upon the power of God to end violence and heal our suffering world. We are Christians uniting in prayer @ the Time Jesus died for us, 3pm (each of us in our local time zones) to pray for every human being on earth. At this time we remember the Passion of Christ and we thank Jesus for dying for our salvation. We pray for Our Lord to send forth His Holy Spirit to change the hearts of those most in need of His mercy.  We pray for Jesus to silence the forces of evil and fill our hearts with God's love.  Please Join In! And learn more here
Social Share